Our History
Tony and Phil Ciccone were no strangers to to the craft when they opened the doors of Westchester County's own Ardsley Pizza back in 1991. Their family tradition was started in 1975, when their father, Michael Ciccone, opened Mike and Sons Pizza on Allerton Ave. in the Bronx. It was their dad, an immigrant from Macchiagodena, Italy who arrived in the U.S. in 1958, that instilled in them the work ethic and "people skills" that have made the business thrive.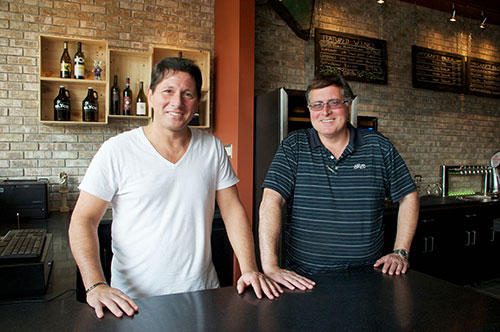 Tony and Phil Ciccone
Mike passed in 2008, but he was a big presence at Adsley Pizza in his day. "He just was known for people skills, it was just amazing, he just had a constant smile, that's what basically everybody remembers even from here in this town, just seeing him smile and greet people. He was always happy," remembered his younger son, Phil. "Desi Arnaz and him could have been brothers."
Mike's wife Rose is still a regular presence at the shop. To her credit, she may have contributed the most important thing of all to the business - the recipe for the sauce. She also makes a mean lasagna, the recipe for which has graced the menu for some time.
The family tradition continues further as Tony's kids Philip and Michelle has become more involved in the business, with Philip stepping in as needed at the front of the house and Michelle working as a hostess on the weekends.
Tony's wife, Laurie, spends time at the shop when she's not busy teaching in Scarsdale, the same town where Phil's wife, Kelly, works as a hairstylist and colorist. Kelly is also a regular presence at Slyce, often with "little slyces" Ava and Michael in tow.
For Tony and Phil, nothing makes the place more of a family affair than the generations of loyal customers who have brought the place to life.
"We have such a great clientele. Our customers are like family members, we've grown so in love with them… it's such a family atmosphere," said Phil. "A lot of places put numbers on the boxes. Here, everybody is dealt with in names because we know everybody, so when you come walking in the door it's just a big family atmosphere. We treat people the way we want to be treated and that has a lot to do with our success throughout the years."